Weltweit sind wir die erste und einzige KREBSSUCHHUNDESTAFFEL zur Erkennung von zellulären Veränderungen am Menschen!
Nach jahrelanger intensiver Forschungsarbeit ist nun auch praktisch möglich, was seit Jahren in der Theorie bekannt war:
Die Erkennung von spezifischen Erkrankungen bei Menschen durch  den aussergewöhnlichen Geruchssinn von Hunden.
Die Krebssuchhundestaffel ist darauf trainiert, zelluläre Veränderungen im menschlichen Körper – Krebs – zu erschnüffeln und anzuzeigen.
Spezielle Techniken und der Geruchssinn der Hunde ermöglichen es uns, die Früherkennung von Krebs effizient zu unterstützen und einen Beitrag dazu zu leisten, die Sterblichkeitsrate durch Krebserkrankungen zu senken.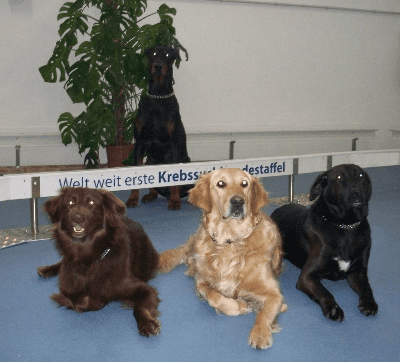 Studien und Kommentare zum Thema
"

können Hunde Krebs riechen

"
"The issue is not whether or not they can detect cancer, because clearly they can. The issue is whether you can set up a system whereby they can communicate with you. That requires furher ingenuity"  – Prof. Tim Cole  –  Professor für medizinische Statistic des Imperial College in London

Neue Literatur: Taverna et al.,Olfactory System of Highly Trained Dogs Detects Prostata Cancer in Urine Samples . J. 2015
G.Horvath el al, Cancer odor in the blodd of ovarian cancer patients: a retorspective study of detection by dogs during treatement, 3 aqnd 6 monaths after word. BMC Cancer 2013. Link

The Use of Canines in the Detection of Human Cancers am 14.11.2008 – Robert Gordon, M.D. – Scripps Clinic – 3811 Valley Centre Drive, San Diego, CA
Diagnostics Accuracy of Canine Scent Detection in Early- and late- Stage Lung and Breast Cancers vom 30.05.2006 – Michael Mc Culloch, Pine Street Foundation  124 Pine Street, Sn Anselmo, CA
Olfactory detection of human bladder cancer by dogs: proof of principle study am 13.05.2009
Centre for Paediatri Epidemiology and Biostatstics, Institute of Child Health, London WCIN 1 EH
Ehmann R, Boedeker E, Friedrich U, et al. (August 2011). "Canine scent detection in the diagnosis of lung cancer: Revisiting a puzzling phenomenon". Eur Respir J. 2012 Mar; 39(3): 669-76
Identifikation von Lungentumoren aus der Atemluft von Patienten durch Einsatz von Spürhunden. – Robert Bosch Krankenhaus Klinik Schillerhöhe, Gerlingen, 2011
McCulloch M., Turner K., Broffman M., Lung cancer detection by canine scent: will there be a lab in the lab? – Eur Respir J 2012 39:669-676; published ahead of print 2011
Mika Shirasu, Kazushige Touhara; The scent of desease: volatile organic compounds of the human body related to disease and disorder; J. Biochem. 2011; 150(3):257-266
Cornu JN et al; Olfactory detection of prostate cancer by dogs sniffing urine: a step forward in early diagnosis. Eur Urol. 2011 Feb; 59(2):197-201. Epub 2010 Oct 15.
Hideto sonoda et al.; Colorectal cancer screening with odour material by canine scent detection; Gut Online First, published on January 31, 2011 as 10.1136/gu.2010.218305
Michael McCulloch et al; Diagnostic Accuracy of Canine Scent Detection in Early- and Later-Stage Lung and Breast Cances; Integrative Cancer Therapies March 2006, Vol 5, No 1
Carolyn M Willis at al; Olfactory detection of human bladder cancer by dogs: proof of principle study BMJ 2004; 329:712
Church J. Williams H., Another sniffer dog for the clinic? The Lancet, Volume 358, Issue 9285, Page 930, 15 September 2001
Williams H, Pembroke A. Sniffer dogs in the melanoma clinic?. Lancet 1989; 1:734
Jeffrey D. Amazhing dog that sniffs out cancer. Daily Mail April 22, 1997: 45
Unser Pilotprojekt –
"

Hunde riechen Krebs!

"

Doppelblindstudie im Juli 2010
Bei einer von uns durchgeführten Doppelblindstudie unter Laborbedingungen unter Aufsicht einer Fachärztin wurden 2250 Proben ausgewertet und ein Suchergebnis von  "93,2 % richtig" erzielt!
Unsere Presseaussendung vom Juli 2010 wurde u.a. veröffentlicht von: